Window Installation Eau Claire, WI
Choosing the best window for your West Central Wisconsin home can be daunting. I mean LowE, Argon, solar heat-gain, U-value, double glazed, triple glazed, Krypton? Really? Do you need help making sense of all the information available? Wood, vinyl, fiberglass, compozit, aluminum? What difference does it make? A LOT. Cheaper windows may seem fine at first glance, but once you understand the features, and know what to look for, you would be surprised at how big the differences really are. Give us a call and we can explain all the available features and the benefits of each.
Whether you are interested in improving the comfort, efficiency, value, or appearance of your home; the choice you make in windows can have a big impact on the return you can expect. A Liberty Exteriors representative can help you better understand the available features and show you how they will affect your decision.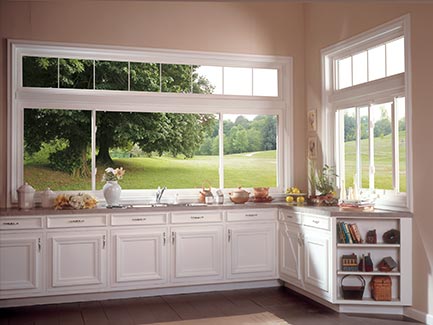 In addition to the features of the new windows themselves, you should also take in to account the experience and expertise of the people who will install them. Although the process sounds relatively simple - I mean the hole is already there right? - there will be a world of difference in the final outcome depending on the installation method you decide on. From a simple Out-and-In replacement to a complete tear out of the old unit including the frame, the end result depends on the method selected.
In a simple out-and-in (or pocket) replacement just the sashes of the existing windows are removed and a new unit is inserted in the old window frame. This is the quickest, and least expensive, method and will give you a much more efficient window unit for the least amount of effort and money. However, it is important to understand that you also give up a lot of glass space when you choose this type of installation. Also, you can also still experience drafts from air infiltrating through the voids around the old frame - even though the new window itself is not allowing air to infiltrate.
A complete tear out allows us to expose the empty areas around the old frames so these voids can be insulated, and any rot or damaged wood can be replaced. Insulating these voids with non-expanding foam will better seal the entire window area to eliminate drafts. Removing the frames also allows you to install a larger window than the pocket replacement will so you won't give up part of your view. Although a little more time, skill, and effort is required; the results are well worth the added cost.
High-quality windows professionally installed by Liberty Exteriors will not only light up your home, but they help to maintain its temperature and increase energy efficiency. Old, drafty windows are one of the leading causes of heat loss in a home. Why not spend your hard earned money on something more environmentally friendly like new, high-efficiency windows?
Looking to match some of your old windows with new replacement vinyl windows? Liberty Exteriors has got you covered. Contact us and we'll help you find a match.
Elements Vinyl Windows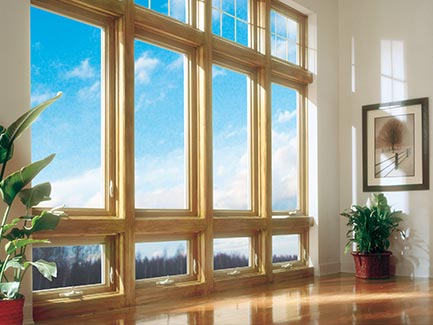 If energy efficiency is your foremost consideration in choosing a window—and color choice, too—then you should know about the Elements line of vinyl replacement windows by Soft Lite.
Soft Lite has been a manufacturer of window products since 1934, and in order to separate themselves from their competition, they set out to create the most eco-friendly, energy-efficient window in the industry—bar none—no matter what material: wood, vinyl, fiberglass, aluminum... you name it.
Elements vinyl replacement windows are currently deemed the most energy-efficient produced in North America according to independent assessments by the AAMA1 and the NFRC2, exceeding all industry standards for durability, energy, and efficiency, not to mention air- and water-penetration. And they have won the EPA Energy Star Partner of the Year Award for 2017.
Elements® Windows come loaded with features that meet demanding customers needs:
1. Comfort Foam™ Insulation
Dramatically increases thermal efficiency and makes your home more comfortable. Filling frames with insulation, is rare enough among replacement vinyl windows. But rather than simply slide or spray the insulation into the frame, Soft-Lite hand-fills it to make sure no seam or crevice gets overlooked.
2. Ultrasmart™ Weather Stripping
This combines the effectiveness of Ultrafab Tri-Fin Gold Series gaskets with Ultra-Fresh anti-microbial biocide protection to provide extreme protection against drafts and airborne bacteria, pollen and mold.
3. Super Spacer®
World's only 100% foam spacer greatly minimizes condensation. The primary cause of window condensation is the spacer between the glass panes. Common metal spacers conduct heat and cold between the glass panes causing condensation around the window.
4. Cove-Mould Face
Exterior face is designed to replicate beautiful wood moulding.
5. ILTIS Concealed Tilt Hardware
Invisible tilt latches offer a smooth, sleek appearance - yet still allow for convenient tilt-in cleaning.*
6. K-Beam™ Thermal Reinforcement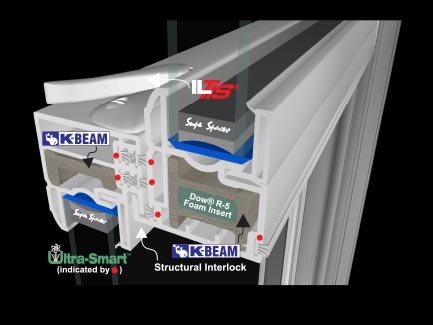 Five times stronger than steel, more than 700 times warmer than aluminum. Soft Lite reinforces the Elements window with Kelvar instead of metal. Kelvar is a synthetic fiber with a tensile strength-to-weight ratio that's five times that of steel. it was developed to replace the steel cords in racing tires. This kind of strength makes for a vinyl replacement window that is virtually impervious to warping from heat, from cold, your home's natural settling—whatever. In fact, Elements vinyl windows are twice as strong as the industry average.
Beyond its exceptional strength, unlike metal or steel, Kelvar does not conduct heat or cold. So you get a window that is stronger than steel with none of the heat- and cold-conducting disadvantages of metal frames or reinforcements.
7. Stealth Lock System
Low-profile lock and keeper provide a clean sightline and attractive appearance while offering the utmost security.*
8. Dura-Sill™
Combines thermal efficiency and impressive protection against air and water infiltration, and structural damage during extreme weather conditions. Dura-Sill combines interlocks, air locks, weather-stripping, water barriers, and diversions that work 24-7
Using robotic technology in their state-of-the-art manufacturing plant, Elements frames are built to extremely precise tolerances (.03125 in. to be exact), resulting in perfect welds and smooth micro-abraded seams.
The net result is that Elements vinyl replacement windows are independently rated to leak 15 times less air than the leading competition, and boast a U-factor that is 20 percent better than the highest NFRC-rated U-factor in the industry.
Our Services
What Our
Customers Say…
I had new windows and vinyl siding by Liberty Exteriors a number of years ago and the whole experience was nothing but great and positive! :-) Joe even came back to my house a number of times with questions that I…
Laurie
Request a Quote
We're happy to help you find exactly what you're looking for.