Standing Seam Steel Contractor Western WI
Standing seam metal roofs have become an architectural statement. A standing seam metal roof can be fabricated on the job-site in a few days--and will last for the life of the home.
A standing seam roof is constructed of many interlocking panels that run vertically from the roof's ridge (the top of the roof) to the eave. The interlocking seam where two panels join together is raised above the roof's flat surface forming a "standing seam", and allowing water to run off without seeping between panels.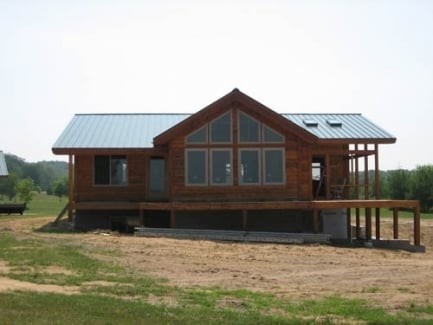 Standing seam roofs come in many shapes and sizes. In some instances, the vertical panels are cut to length at a factory and delivered to the job site. Other types are shaped and cut right on the job site using portable equipment. Other metal roofing options include "shingles" that arrive prepackaged (typically in three- to five-foot lengths) and are installed in a staggered pattern for visual effect.
Two types of methods are commonly used to secure the panels to the roof sheathing. In the first, hidden fasteners are secured to the raised portion of each panel, and subsequently covered by the next adjoining panel during installation. A second (and less costly) method utilizes exposed fasteners that are driven through each metal panel into the roof sheathing.
Our Process: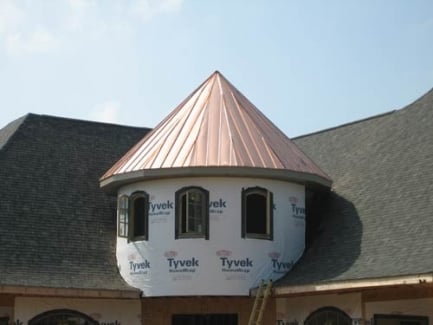 The standing seam metal roof is fabricated on the job site by Liberty Exteriors' trained crew members. We arrive equipped with spool of 24-gauge (commercial gauge for strength) sheet-metal that we form and cut to length using a self-contained, portable metalworking tool called a roll forming machine.
Each section of the metal roof is individually formed to the desired length. This reduces job site waste, as short and long panels can be cut to the appropriate length. The roll forming machine, is specifically designed to form the interlocking panels.
A sharp-toothed hydraulic shear cuts each panel to the appropriate length without damaging the panel ends. Although some hand trimming is involved, the panels are formed and cut to length and ready to install in just a few minutes.
Individual roof elements are installed in a specific sequence to create a watertight seal. First, an ice and water barrier is installed at eave edges. Next, synthetic underlayment is installed over the roof sheathing. The roof's valleys (formed where two roof sections meet at an angle) are covered with an ice and water barrier, and a valley pan installed with seal starter pieces to lock each roof panel onto. A preformed ridge cap covers the roof's peak. Each of the vertical roof section will be attached to the eave starter and ridge vent for a uniform appearance.
Clips and/or a screw flange secure each panel directly to the roof sheathing, using hidden fasteners creates a more polished look once the job is completed. The next adjoining panel is locked over the clips/screw flange, concealing and protecting the fasteners. The raised seams formed by the panel ends are crimped together to form a watertight seal. In this method there are no exposed fasteners to attract debris, trap water, and create the potential for leaks.
Ridge cap, valleys and vertical sections all come together to form a watertight seal against the elements. A properly installed metal roof can go many years with little or no maintenance.
Our Services
Request a Quote
We're happy to help you find exactly what you're looking for.