Awning Provider & Installer Eau Claire
Liberty Exteriors offers a full range of Awnings and Door Canopies; including fabric, factory aluminum, custom steel panels, and wood pergolas; to compliment and protect any home or outdoor living area.
While we all enjoy a little sunshine, excessive exposure to direct sunlight can result in uncomfortable heat gain indoors and can reduce the amount of quality time you enjoy in your outdoor space. A properly selected and installed awning can make your home a more comfortable place to spend your time.
Retractable Awnings from Sunesta
Sunesta Custom Fabric Shading Systems
When you decide to expand your outdoor enjoyment and living space, a retractable awning can be the perfect solution. Liberty Exteriors is happy to be able to offer you the complete line of Sunesta Shade Products to enhance your home! Have a particular look in mind?, Deck much larger than average?, Want automatic functionality? All of these things can be accommodated. With Liberty Exteriors and Sunesta Awnings, your choices and options are vast. Give us a call and a representative from Liberty Exteriors can show you the many features and options that are available for your awning or shading needs and help you to create your unique shading system.
Retractable Awnings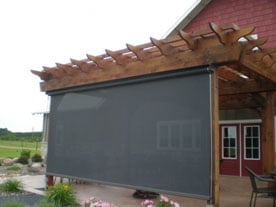 Sunesta has been leading the industry in Awning innovations since 1981. With today's lightweight 100% solution-dyed acrylic woven fabrics you will enjoy many years of superior performance. The fabric colors stay bright, resisting elements and moisture; and the awnings won't harden, crack or peel. When retracted, your awning is securely stored and protected from the elements in the self-storing housing. Our strong, streamlined designs eliminate the need for support poles, so our awnings block only the sun or light rain, and not your view. Maximize your usable shaded outdoor living space and your view with the addition of a Sunesta Retractable Awning to your home. Unlike permanent patio awnings, roofs, and enclosures, Sunesta Awnings can be retracted during darker times of the day, or on cloudy days, to brighten the interior of your home naturally.
Sunesta offers the SmartDrop Valance as an option for The Sunesta and The Sunstyle models. By definition, it is a retractable curtain that drops down from the awning's front bar to block low-lying sun and provide privacy for a homeowner's patio or deck living area. The SmartDrop fabrics are similar to screen fabrics, in that they are woven to allow for see-through visibility and air flow. They are also vinyl-coated and offered in 10 colors. Sunesta's SmartDrop valance will drop down up to 5 ½ feet, and is the largest drop valance in the retractable shade industry. It can easily be operated manually with a crank, or remotely with an optional motor.
Screens & Shades
Sunesta also offers attractive, custom-made vertical shading systems which combine pleasing aesthetics with advanced technology to keep your home comfortable and beautiful. Not only will will they add to the comfort and beauty of your home, they can also help decrease interior fading from damaging UV rays. With a Sunesta Sunroll, you are sure to enjoy calm, comforting interior environments, reduced energy bills and complete control over your home's lighting and privacy. The Sunroll Retractable Screen provides you with total vertical sun control of your covered outdoor space. Available in motorized or manual options, the Sunroll can be customized to fit your unique space with widths up to 24' and heights up to 12'. These custom screens filter out the majority of the sun's negative effects while maintaining your outdoor view and allowing you full control over interior lighting.
Shelters
The Suncover Retractable Shelter is a versatile retractable shade system for everything from basic sun protection up to complete rain and inclement weather protection. These systems are designed to be mounted atop an existing structure such as a pergola, skylight or sunroom. With single unit widths up to 16 by 23 feet and the ability to join multiple units, the coverage is only limited to your space. These systems offer a choice of hundreds of fabrics ranging from acrylic to decorative solar screen and waterproof fabrics. Like all Sunesta retractable systems, the Suncover is custom made to fit your needs.
The Shadespot Freestanding Shelter allows you to enjoy the outdoors and yet be protected from the elements. It's perfect for patios, decks, outdoor cafe's, restaurants, and break areas. Since it is freestanding, The Shadespot offers up to 600 square feet of shade anywhere.
More Details About Sunesta Awnings
The Sunesta is a retractable patio awning in widths up to 40' and 14' 8" projection. Features arm folding for narrow widths and large projections. Easily adjustable and easy to control.
The Sunlight is a retractable patio awning for widths up to 24' and 10' projections. A variety of fabric choices and add-on options are available.
The Sunstyle retractable patio awning features a front bar drop valance and consumer adjustable arm pitch for low sun protection. Sunstyle comes in widths up to 40' and 11' 6" projection.
The Sunbrero line offers retractable door and window canopy awnings available in many shapes and sizes that can be customized for your home.
The Sundrop offers complete sun control for additional functionality and versatility. Sundrop can be used as an awning, complete window shade, or valance when retracted.
The Shadeside is a retractable shade that can provide privacy in your outdoor area. Use it in conjuction with an awning or by itself. Hundreds of fabrics available, including screen fabric to allow wind and light to flow through.
The Shadespot freestanding awning is perfect for patios, decks, and outdoor cafes. It offers freestanding shade up to 600 square feet so you can create your own personal oasis.
The Sunboot is a cover to help protect your awning from weather, direct, and animals when retracted for long periods of time.
The Suncover and The Sunplus offer basic protection for your patio or deck. These systems can be used alone or on top of an existing structure, such as a pergola or skylight.
The Sunflair patio awning offers the same great custom construction with standard features and ten fabric choices. This gives you an excellent, long-lasting awning at an incredible value.
*TUV is the only recognized independent testing agency in the world with rigid standards for certifying retractable awnings.
Aluminum Window Awnings and Door Canopies
With a baked on enamel finish, with white underside, Styleline awnings are built to last. Panels are bonded together with aircraft rivets [not sheet metal screws] eliminating rattles and vibration noise. Constructed of the finest materials, aluminum awnings will never rust!
Custom installed by one of Liberty Exteriors' professional crews these stylish attractive awnings and canopies will compliment and protect your home for many years to come.
| | | | |
| --- | --- | --- | --- |
| | | | |
| Traditional Aluminum Window Awning | Casement Window Awning | Radial Top Awning | Aluminum Door Canopy |
Our Services
What Our
Customers Say…
Having just built our home we have dealt with a lot of contractors and from that experience, Liberty rates right up there with the best!
Frank
Request a Quote
We're happy to help you find exactly what you're looking for.