Steel Siding Contractor in the Chippewa Valley
Steel Siding for a Greener Environment; Steel is the most recycled material in the world. Nearly 70 million tons were recycled in the U.S. alone in 2006. It takes 60% less energy to recycle steel than it does to make it from raw materials.
Steel siding is very strong and resists shrinking and bulging when the temperatures change, which is perfect for the harsh winters and hot summers of Wisconsin. It also resists fading, chalking, chipping and peeling like no other vinyl or painted product. Steel siding products come in a wide variety of color choices and textures.
To help determine which color and texture of steel siding you'd like to use for your new construction, remodel, or expansion project, please contact us and we'd be happy to show you samples of our exterior siding products
TruCedar® Steel Siding
TruCedar® steel siding by Quality Edge TruCedar's CarbonTech90 steel outer shell is both anti-corrosive and extremely abrasion resistant. With it's exclusive Sunmaster50™ Hybrid Kynar® paint finish that offers Lifetime Fade Protection, your home will be beautifully armed against anything Mother Nature can dish out. Availble in eleven solid and eight premium variegated colors, with your choice of six distinct profiles, and complimented by the extensive QualityEdge Aluminum trim and soffit color pallet your design choices are limited only by your imagination!
Learn more about QE TruCedar Steel Siding
Klauer Steel Siding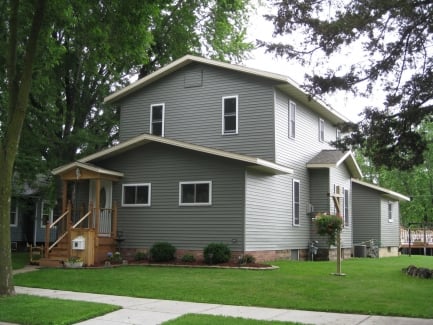 Klauer Classic & Prestige Steel Siding is manufactured from a minimum of 70% recycled steel, and it is 100% recyclable. Klauer Building Products' tough proprietary Ceranamel finish is harder and more scratch and stain resistant for less maintenance. Klauer coatings utilize the ENERGY STAR approved Cool Paint Technology™ with reflective pigments in the paint for superior energy performance and reduced energy consumption. Both Klauer Classic (23 solid colors) and Prestige (four premimun Two-tone colors) steel siding is available in five distinct profiles Vertical Board & Batten [8"]; Horizontal [8"]; Clapboard [4" or 5"]; or Dutchlap [5"] to enhance your home's character.
EDCO Permanent Steel Siding
Entex Coated Steel Siding provides customers with an extremely durable and long-lasting steel siding that's virtually maintenance-free. Using DuPont's Teflon technology, EDCO's Entex steel siding is extremely durable in harsh weather, and has stronger, more rigid panels. This ensures tight seams and a straight, clean look. Entex products also use Energy Star compliant DuraCOOL infrared reflective pigments, making your home more energy efficient. This steel siding is available in four distinctive profiles; Vertical Board & Batten [12"]; Horizontal [8"]; Clapboard [4"]; or Dutchlap [5"]; and 10 rich designer colors. Unique accessory trims are also available to give your home or business exterior additional interest and curb appeal.
Other Steel Siding Collections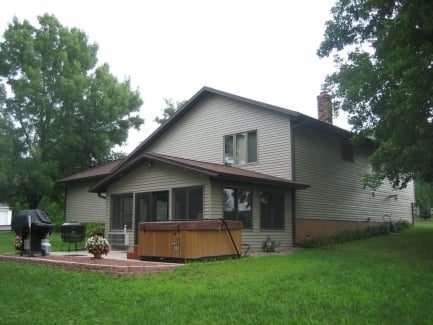 Rollex siding is an excellent option offered through Liberty Exteriors. The oven-fused PVC finish of the Designer Series features sixteen color choices and resists dents and scratches, buckling and warping, and fading to ensure a consistent, clean look for years to come. Their Aurora Series Steel Siding with Nova-UVX4000 kynar finish offers the most advanced siding finish technology available, and comes in fourteen solid low gloss colors, white the Seneca series offers six unique low gloss variegated color options. Even in extreme weather conditions, the finish keeps it looking brand new. Rollex siding is also fire resistant. Rollex warrants their siding with a no-nonsense lifetime warranty.
Gentek steel siding offers numerous benefits for your home's exterior.Gentek products use a special PVC (Polyvinyl Chloride) coating that is bonded to the metal surface to create a siding product unmatched in durability and scratch resistance. Up to 3-1/2 times thicker than other paints or finishes, this PVC coating actually blocks the damaging, ultraviolet rays of the sun. It also is warrantied against excessive chalking or color change for 25 years. Hailstorms, frigid temperatures, blasting winds, and searing sun are no match for Gentek steel siding.
Our Services
Steel Siding Brochures
Want to learn more about our steel siding products? View the brochures below for more helpful information.