Steel Shingles Installation in Eau Claire
Our line of steel shingles will enhance your home with the natural beauty of cedar or the elegance of slate or copper, and are guaranteed not to fade over time. Steel shingles turn an ordinary roof into an extraordinary roof. For appearance, performance and installed cost, they're unbeatable.
If you're looking for all the advantages that steel has to offer then we suggest giving a little to gain even more. Painted steel shingles have the design of a shingle without the granule coating. This allows snow to slide off whereas granules tend to hold snow in its place. Allowing snow to slide means eliminating snow loads, thus helping keep the attic cooler and eliminate ice damns from forming.
Unlike many products the steel shingles interlock on all 4 sides for better water, and wind resistance. All fasteners are concealed using a clip that fastens to the shingle and to the roof allowing the next shingle to cover over the clip. In addition, Steel shingles come in many attractive profiles and colors, with one to definitely suit your tastes.
TAMKO MetalWorks Steel Shingles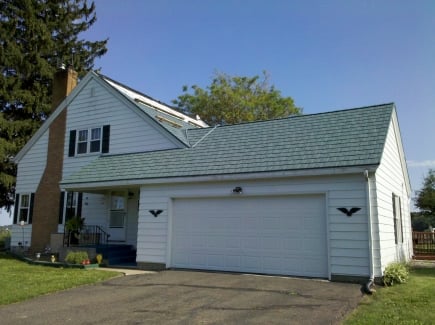 TAMKO's MetalWorks products offer three styles of shingles in a variety of colors to give you the latest looks and trusted strength of steel roofing. Being the most economical painted shingle makes Tamko a great choice. The shingles are constructed with G-90 steel - recognized to be the industry standard. The design, in combination with the fact they only weigh approximately 1/3 that of a typical asphalt shingle, allows us to install these over the top of existing layers of asphalt if desired; however, the proper underlayments MUST be installed prior to steel shingle application.
MetalWorks Astonwood - provides the look of real wood shingles, but the durability of steel. A modern alternative to a classic look.
MetalWorks Stonecrest Tile - has a smoother, uniform pattern, giving your roof a more contemporary feel.
MetalWorks Stonecrest Slate - is a heavier gauge panel which gives the dramatic look of natural slate.
All MetalWorks steel shingles are made from up to 50% recycled material, and are 100% recyclable. They offer a 50- year limited warranty for your piece of mind. MetalWorks shingles are ENERGY STAR qualified and also are listed by the Cool Roof Rating Council, delivering the solar reflectance performance that characterizes cool roof products. This combined with the Kynar 500/Hylar 5000 finish make for a permanent roof.
The MetalWorks products utilize a Kynar 500/Hylar 500 finish to resist fading and chalking, and have a four-way locking system to ensure that your roof remains secure even after years of harsh conditions. MetalWorks products are 100% recyclable and are made from up to 50% recycled material. You'll also have peace of mind knowing that your MetalWorks steel roof is covered by a 50-year limited warranty from TAMKO.
Edco Arrowline Steel Shingles
For a little more definition and character we recommend the EDCO Arrowline shake or slate looking profiles. The Arrowline shingles are available in 15 solid colors with 4 enhanced two tone color options available.
These shingles are also constructed with G-90 steel, and the weight and design allow them to be installed over top of existing asphalt - again with all proper underlayments. They carry a limited life-time warranty for the protection of your home. All enhanced two tone colors meet or exceed Energy Star performance standards, and have the same Kynar / Hylar coatings as the MetalWorks shingles do.
DECRA Stone Coated Steel Roofing
DECRA products [Shingle XD & Shake XD] are lightweight steel panels with a stone coating. The panels will not crack, break, burn, curl, split or rot. Panels have a non-porous design leaving them Freeze/Thaw resistant. They are walkable, low maintenance, and a long life shingle. Interlocking panels with a unique hidden fastener system provide protection against the elements with a Class 4 Impact Resistance (Hail) under UL 2218.
The best warranty in the industry. DECRA Roofing Systems carry a Limited Lifetime Warranty including 120 mph winds, hail penetration for any size hail, and manufacturing defects - including excessive granule loss. In addition, material and labor are covered for the first 20 years after that time, material is covered the remaining warranty period.
Metro Roof Products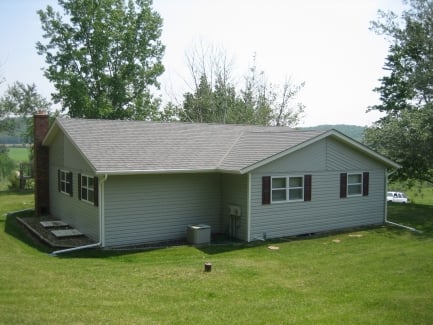 Metro Roof Products gives us a stone coated steel shingle that offers a secure, maintenance-free, attractive roof. These shingles are fast to install and have an interlocking system that provides a strong, weather tight roof system to withstand harsh winter or summer conditions. Metro also boasts a 50-year fully transferable limited warranty and protection against high winds up to 120mph and hail. Available in two distinct styles, the MetroShingle with a low profile traditional shingle look and the MetroShake-II with a more rustic look. The deep wood-grain texture of the MetroShake II provides a natural look to your roof without the high cost and time-consuming installation process of traditional shake shingles.
Our Services
DECRA Collections
DECRA Brochures
Request a Quote
We're happy to help you find exactly what you're looking for.
100% Covered
for 20 Years
In addition to product warranties, Liberty Exteriors offers a one-of-a-kind Workmanship Warranty, protecting you for 20 years.