Seamless Steel Siding
Steel siding is very strong and resists shrinking and bulging when the temperatures change, which is perfect for the harsh winters and hot summers of Wisconsin. It also resists fading, chalking, chipping and peeling like no other vinyl or painted product. Steel siding products come in a wide variety of color choices and textures. Steel is the most recycled material in the world. Nearly 70 million tons were recycled in the U.S. alone in 2006.
To help determine which color and texture of steel siding you'd like to use for your new construction, remodel, or expansion project, please contact us and we'd be happy to show you samples of our exterior siding products.
Seamless Steel Siding
Seamless steel siding is formed on site by Liberty Exteriors using our very own roll-forming machine. Because the panels are formed on site, each course is carefully measured and roll-formed to fit your home – without unsightly SEAMS. This results in a cleaner, and more appealing look and it also allows for less waste and a cleaner job site. Steel coil is available from a variety of sources [including EMCO] in a wide range of colors. When the panel is being formed, we can adjust the rollers to create just the amount of embossing you desire for your home – from a heavy "aged" wood-grain to just a light touch. Seamless Steel Siding can be formed in Horizontal [8"]; Clapboard [Double 4" or Triple 3"]; or Dutchlap [4"]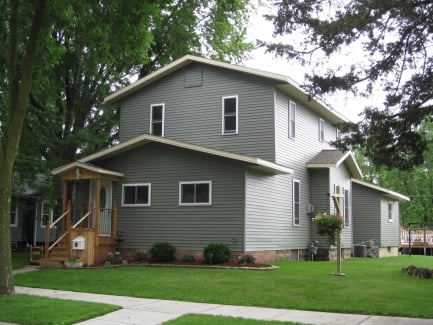 Siding for a Greener Environment; EMCO siding is manufactured from a minimum of 70% recycled steel, and it is 100% recyclable. EMCO Building Products' tough proprietary finish is enhanced with a DuPont™ Teflon® surface protector making it harder and more scratch and stain resistant for less maintenance. EMCO coatings utilize the ENERGY STAR approved Cool Paint Technology™ with reflective pigments in the paint for superior energy performance and reduced energy consumption.
EMCO steel siding is available in boxed siding – factory formed and cut to 12-1/2' lengths with an attractive cedar woodgrain finish – as well as seamless siding coil. Both EMCO PreserveTM and WeatheredwoodTM steel siding is available in five distinct profiles Vertical Board & Batten [8"]; Horizontal [8"]; Clapboard [4" or 5"]; or Dutchlap [5"] to enhance your home's character.
The EMCO Preserve™ collection is available in 26 solid colors, and includes steel siding & accessories, and aluminum soffit, fascia, and gutter products to color match or contrast your home's exterior for the ultimate in curb appeal.
The EMCO Weatheredwood™ siding collection includes seven distinct two-tone color blends. With it's natural cedar wood grain texture and unique colors, Weatheredwood siding closely replicates the look of stained cedar, with the strength and durability of steel.
EMCO Steel Shake and Shingle Siding - Enhance your curb appeal further by incorporating EMCO Preserve™ Steel Shake or Steel Shingle siding into your design plan. Both products are great for accent areas on your home's exterior such as gables or dormers. The Shake panel has a 12" straight edge design, a rugged spit shake texture, and is available in nine rich colors. The Shingle panel features a realistic smooth wood grain finish in nine warm tones for accent.
Revere steel siding offers numerous benefits for your home's exterior. Revere products use a special PVC (Polyvinyl Chloride) coating that is bonded to the metal surface to create a siding product unmatched in durability and scratch resistance. Up to 3-1/2 times thicker than other paints or finishes, this PVC coating actually blocks the damaging, ultraviolet rays of the sun. It also is warrantied against excessive chalking or color change for 25 years. Hailstorms, frigid temperatures, blasting winds, and searing sun are no match for Revere steel siding. Your home will be beautifully armed against anything Mother Nature can dish out.
Learn more about Revere Products
Revere SuperGard™ Steel Siding is designed to protect your home from punishing weather. With twelve classic colors to choose from, you can be sure of creating just the right worry-free exterior you want for your home. Utilizing an advanced primer system and premium PVC coating, your home will have resilient color and one of the toughest, long-lasting exteriors available. SuperGard™ Profiles include: Vertical Board & Batten [12"]; Horizontal [8"]; Clapboard [4"]; & Dutchlap [5"]
Revere Cedarwood® Seamless Steel Siding so closely resembles genuine stained cedar that it's difficult to tell them apart. The secret is in the naturally random woodgrain pattern of the five attractive multi-toned color combinations. Utilizing a patented Color Fusion coating process, each panel of Cedarwood® features authentic wood-like texture and color. It looks as natural as the trees in the forest but with the superior strength and endurance of steel. Cedarwood® steel siding is as beautiful as it is strong. Fluropon®, a specially formulated Kynar 500® coating, provides an exceptionally long-lasting finish that will resist staining, mildew and dirt. Your siding will retain its fresh appearance for generations to come. Cedarwood® is available in a Horizontal [8"] or Clapboard [4"] profile.
Entex Coated Seamless Steel Siding provides customers with an extremely durable and long-lasting steel siding that's virtually maintenance-free. Using DuPont's Teflon technology, EDCO's Entex steel siding is extremely durable in harsh weather, and has stronger, more rigid panels. This ensures tight seams and a straight, clean look. Entex products also use Energy Star compliant DuraCOOL infrared reflective pigments, making your home more energy efficient. This steel siding is available in four distinctive profiles; Vertical Board & Batten [12"]; Horizontal [8"]; Clapboard [4"]; or Dutchlap [5"]; and 10 rich designer colors. Unique accessory trims are also available to give your home or business exterior additional interest and curb appeal.
Other Steel Siding Collections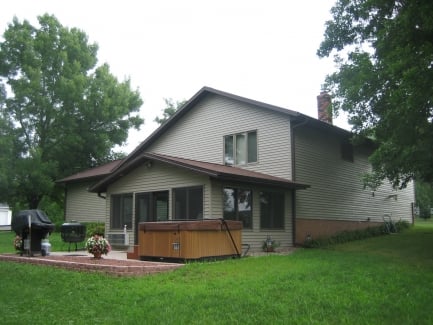 Norandex CraftMark Classic Vyna-Fused® Seamless Steel Siding combines the strength of steel, the low maintenance advantages of vinyl and the beauty of natural wood. Reynolds CraftMark Classic Steel Siding comes in a variety of styles, beautiful colors and is complemented by Reynolds' full line of custom, color-coordinated accessories and trim. It's warranted for life against rusting, cracking, chipping, peeling, blistering and flaking. It won't warp like ordinary siding, and it's even warranted against damage due to hail.
Rollex siding is an excellent option offered through Liberty Exteriors. The oven-fused PVC finish resists dents and scratches, buckling and warping, and fading to ensure a consistent, clean look for years to come. Even in extreme weather conditions, the finish keeps it looking brand new. Rollex siding is also fire resistant. Rollex warrants their siding with a no-nonsense lifetime warranty.
Our Services
Steel Siding Brochures
Want to learn more about our steel siding products? View the brochures below for more helpful information.
Warranties
Learn more about our warranty and our vendor warranties.
Vinyl vs. Steel vs. Cement Board. What's best for me?
When determining which type of siding to use on your home, there are several factors that separate vinyl, cement board, and steel siding. Vinyl siding is a low-maintenance, easy-to-install solution, steel siding offers unbeatable strength and durability, and cement board offers the feel of genuine wood.
Contact Us to Help You Decide